Our Kale crop is so bountiful that anyone who visits the house goes home with some! The germination rate and crop yield of the 4 Kale Mix from Salt Spring Seeds has been exceptional!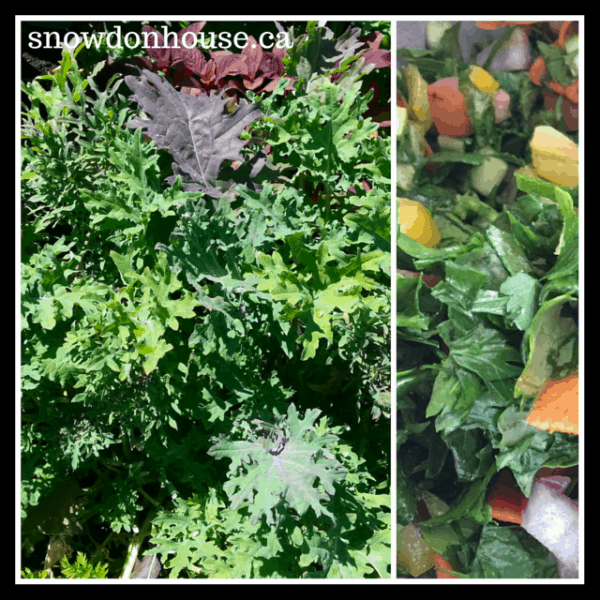 "A mix of our 4 favourite kales: Red Russian, White Russian, Laurel's Frilly and Rainbow Lacinato. Easy to care for and extremely winter hardy. Delicious and nutritious in winter salads or steamed."
Retrieved from: www.saltspringseeds.com/products/4-kale-mix-b-oleracea-napus
Kale Salad Recipe:
½ cup of coarsely chopped toasted pecans
2 bunches of chopped kale
4-5 thinly sliced radishes
½ cup of coarsely chopped cranberries
1 chopped Granny Smith apple
2 ounces of soft goat cheese
Dressing: 3 Tablespoons of olive oil
1 ½ Tablespoons of Snowdon House Fruit Infused Vinegar
Vinegar: 1 tablespoon of Dijon mustard
1 ½ teaspoon of honey
Sea Salt and Freshly Ground Pepper
Toss kale, radishes, cranberries, pecans and apple in a large bowl. Crumble goat cheese over the top. In a small bowl, whisk Snowdon House Fruit Infused Vinegar, olive oil, mustard, honey & salt and pepper. Drizzle over kale mixture and serve. Serves 4-6.