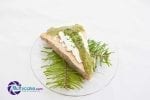 Yogurt Cheese & Snowdon House Douglas Fir Pesto: Yogurt Cheese
Ingredients
1

Package

Yogurt Starter

4

cups

Milk
Instructions
Heat the milk in a pot to 180F. Use a proper thermometer. As soon as the milk reaches this temperature, it should be removed from the burner.

Cool the milk to 108 - 112F. Dissolve starter culture in a measuring cup with a small amount of milk from the pot, and return it to the pot. Cover and keep the milk at 116F for 4 - 4.5 hours (place in a warm spot and cover with towels) until the mixture is the desired consistency.

Line a colander with several layers of cheese cloth. Place the colander over a bowl. Pour in the yogurt and let the whey drip off the yogurt. Cover with plastic wrap and place in the fridge to continue draining. I usually leave the mixture for 4 -5 hours. Save the why by either putting it in a pot to make soup, or stew, or add as your liquid into bread. You can freeze it. Gather the cheese cloth into a ball and let it continue to drain. Once the cheese is firm you can store it in a container for up to two weeks. Use it as you would a cream cheese or in a pasta sauce. It is very versatile.

Serve Snowdon House Douglas fir Pesto on top of the yogurt cheese as a topping for bread or pasta.