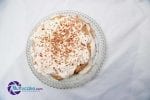 Apricot & Icewine Teacake with Apricot & Bay Ice Cream
Ingredients
Apricot & Icewine Tea Bread Mix

250mL

Apricot & Bay Vinegar

1

cup

sour cream

1

cup

cream cheese

Chocolate to gain the top of the cake
Instructions
Boil Kettle and Make Tea Bread.

Make two thin cakes approximately 8 inches in diameter. Bake for about 10 minutes -- until brown, use skewer as tester. Place aside and let cool.

Reduce a bottle of Apricot & Bay Vinegar in a saucepan for about 10 minutes. Place in fridge to cool on a wire rack.

Place chilled vinegar, cream cheese and sour cream in an icecream maker. The mixture takes about 15-20 minutes to freeze.

Assemble by placing one cake on a plate, top with ice cream, then layer the second cake and garnish with chocolate. Place in freezer for 20 minutes and serve!
---
Products in this recipe