Snowdon House BBQ Chicken
 Pieces of Bone-In Skinless Chicken Breast
1 Bottle of Snowdon House Blueberry & Cinnamon Brie Topper
4 Bay Leaves…
1/2 Tsp. Curry Powder
1/2 Tsp. Crushed Chillis
heat barbeque to 350 F.

 Mix all ingredients (aside from chicken) to form a sauce.

Baste chicken with sauce and barbeque for 25-35 minutes
Blueberry Brie Topper
Snowdon House Blueberry Brie Topper
1 Wheel brie cheese
Sliced almonds
Preheat oven to 350.
Score (slit) the top of the brie cheese and pour brie topper over top of it.
Bake without lid for 10-15 minutes or just until cheese is melting.

Serve on baguettes or crackers.
Spiced Apple Cider
For a warm delight on a cold winter's day, treat yourself to a steaming mug of our Spiced Apple Cider Mix.
Snowdon House Spiced Apple Cider Mix.
Juice (optional) or Water
Place 2 tablespoons of the mix in 8 oz of hot (not boiling) water, stir and enjoy.
You may also combine the mix with hot cranberry and/or apple juice and serve with sliced oranges and a cinnamon stick.
Mulling Spices
Our Mulling Spices are a blend of spices and orange peel that combine to make a lovely hot beverage for this festive season.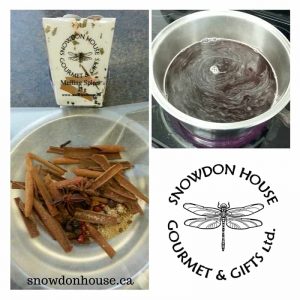 Heat 6 cups of cranberry juice and one cup of water over medium-high heat.
Tie the spices in a cloth, add to the pot. Bring to a boil and simmer for one hour.  HINT: Works well in a crock pot.
Brie Toppers: How To
Fir & Fire: An exotic blend of red chillies, green chillies, and Douglas Fir tips!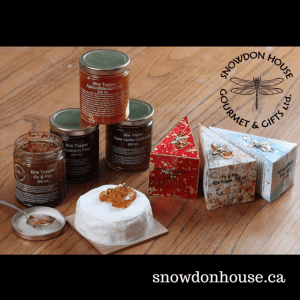 Snowdon House Brie Topper (Many flavours to choose from)
Brie Cheese
Sliced Almonds (Optional)
Preheat oven to 350 degrees.
Slit the top of the Brie cheese and pour the Snowdon House Brie Topper on top of it.
Top with sliced almonds.
Bake without lid for 10 – 15 minutes just until cheese is melting. Serve on Baguette or crackers.