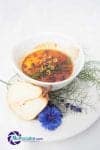 Creme Brûlée with Pear & Anise
Ingredients
6

egg yolks

2.5

cups

heavy cream

2

tbsp

Brown Sugar

6

tbsp

White Sugar

1/2

tsp

Vanilla Extract

1/2

bottle

Pear & Anise Vinegar
Instructions
Preheat oven to 300 degrees.

Place pear and anise vinegar in a pot and reduce to half the volume. Beat egg yolks, 4 tablespoons white sugar and vanilla extract until thick.

Pour cream into a pot and stir over low heat until it almost comes to a boil. Remove the cream from the heat and stir into egg mixture, beat until combined.

Pout mixture into a double boiler, stir over simmering water until the cream coats the back of a spoon, for about three minutes.

Pour into shallow heatproof bowls. Place bowls in a shallow pan full of water. Bake in oven for 30 minutes. Remove and cool to room temperature. Refrigerate for a least an hour or overnight.

Preheat over to broil. Sprinkle the remaining sugar between bowls and place dish under the broiler for sugar to melt about 2 minutes. Watch very closely so it does not burn. Remove from heat. Top with pear and anise vinegar.
---
Products in this recipe