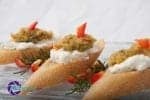 Fresh Ricotta Cheese on Garlic Crostinis Topped with Ginger Coconut Dahl
Course:
Appetizer, Side Dish, Snack
Ingredients
Snowdon House Ginger Coconut Dahl

Baguette or Crostini
Ricotta
8

cups

whole milk

1

cup

whipping cream

1/2

tsp

salt

3

tbsp

lemon juice

1

clove of garlic
Instructions
Crostinis / Baguette Cut into Slices
Preheat oven to 350F brush with olive oil bake for 8 - 10 minutes. Cut slices of red pepper for garnish and bits of cilantro, set aside.
Snowdon House Ginger Coconut Dahl
Prepare according to directions on the package.
Ricotta
Line a sieve with cheesecloth and place over top of a bowl. Set aside.

Combine milk, cream and salt in a large pot on medium heat and bring to a full boil. Reduce heat to low and add lemon juice and garlic. Summer starring until mixture curdles, about 12 minutes.

Pour mixture into sieve and set aside to drain, about 1 hour. Place ricotta in container with lid and it can be refrigerated for up to two days. Makes about 3.5 cups. Save whey and add to a pot of soup, freeze if needed.

To serve, spread a generous spoon of fresh ricotta on a crostini slice. Spoon Ginger Coconut Dahl mixture on top. Garnish with red pepper and cilantro sprigs.