Lemon Verbena Stuffed Herbed Chicken
Roasting chicken (3-5 pounds depending on how many people you are feeding)
8-10 Fresh Bay leaves
25 Lemon Verbena leaves
Beer Can chicken rack
Snowdon House Apricot & Bay Vinegar
2 cups assorted rice
1 medium red onion
4-6 mushrooms
salt and pepper to taste
cheesecloth
Stuffing:
Combine 1.5 cups assorted rice cooked with 2 cups liquid – I choose to use 1.5 cups of Apricot and Bay vinegar and .50 cups water.
Add sachet of cut up lemon verbena leaves in cheesecloth (10 leaves chopped up). Cook until done.
Sautee mushrooms and onions on stove top with a little olive oil. Toss with rice.
Place stuffing and herbs in tin foil and bake with chicken for 20 minutes.
Chicken:
 Prepare chicken by placing lemon verbena and bay leaves under the skin of the chicken in preparation for roasting .
Place chicken over cider can filled with water and vinegar. Place in baking dish.
Add water to the baking dish. Roast at 375 till done fill top of chicken with potato. sprinkle with salt and pepper to taste.
Barley Salad with Crunchy Vegetables
250 g Cooked Barley
1.5 tablespoons lemon juice
A handful of mixed herbs – mint, coriander & parsley
6-8 fresh garden peas
1 carrot diced
1/2 red onion
6-8 yellow beans
Olive oil
2 tablespoons mayonnaise
1/2 tsp dried chilli flakes
1/4 Garlic Clove, crushed
1 tablespoon Snowdon House Crab Apple Vinegar
Place the cooled cooked Barley in bowl. Add the lemon juice and seasoning.
Whisk 1 tablespoon olive oil with 1 tablespoon Crab Apple Vinegar, mayonnaise, chilli and garlic.
Toss all ingredients.
Crostini With Apricot and Bay Infused vinegar chicken topped with Apricot and Mango Brie topper
Yields 16 Crostini
For the Crostini:
One baguette cut into 16 slices 1/4- 1/2 inch thick slices
2 cloves of garlic cut in half
2-3 tbsp. olive oil
Position a rack 6 inches from the broiler and turn the broiler to high. Rub one side of each bread slice with the garlic and set on a baking sheet lined with aluminum foil. Brush the garlic side with oil and season with salt. broil until the bread is browned one to 2 minutes. Flip and broil on other side.
For the Topping:
1/2 pound of chicken
kosher salt and freshly ground pepper
1/2 bottle of Snowdon House Apricot & Bay Infused Vinegar
1/4 cup Snowdon House Apricot and Mango Brie Topper
16 pieces of curly endive Frisee washed and dried.
Marinate your chicken in the Apricot and Bay infused Vinegar overnight.
Place your chicken in a fry pan with all the liquid from marinating. Cook chicken gently until it is no longer pink, remove from fry pan and place on plate.
Continue to reduce the vinegar till it is quite thick it may take an additional 10 minutes after the chicken is cooked.
Place chicken on top of baguette. Once the vinegar is thick add the brie topper to it and place on top of Chicken and serve.
Cranberry & Pear Salad
Serves 4-6
1/2 cup Craisins
1 ripe avocado, sliced
1/2 cup pumpkin seeds or toasted pecans
1/4 cup goat cheese
1 Fresh pear, sliced
1 bag spinach leaves washed or salad greens
Place washed spinach or greens in large bowl.
Place avocado, pecans or pumpkin seeds, craisins, sliced pear in bowl with 2 tablespoons of Snowdon House Fruit vinegar and toss.
Top with goat cheese. You may add more vinegar if you choose.
Spinach Salad
Serves 4 – 6
1 bag spinach leaves, washed
2 ripe mangos, sliced
½ cup Blueberries
½ cup Raspberries
1 ripe avocado, sliced
Snowdon House Fruit Infused Vinegar
Place washed spinach in large bowl.
Place mangos, blueberries, avocado, pecans, raspberries in bowl with 2 tablespoons of Snowdon House Fruit vinegar and toss. You may add more vinegar if you choose.
Kale Salad
Serves 4 – 6
1/2 cup coarsely chopped toasted pecans
2 bunches of chopped kale
4-5 thinly sliced radishes
1/2 cup chopped cranberries
1 chopped granny smith apple
2 ounces chopped goat cheese
2 tbsp. olive oil
Snowdon House Fruit Infused Vinegar of your choice
1 tbsp. Dijon mustard
1 1/2 tsp. honey
Salt and pepper to taste
Toss kale, radishes, cranberries, pecans, and apple in large bowl. Crumble goat cheese over the top.
In a small bowl, whisk Snowdon House Fruit Infused Vinegar, olive oil, mustard, honey, salt and pepper.  Drizzle over kale mixture.
Quinoa Salad
1½ cups of quinoa
5 tbsp.. extra-virgin olive oil
1 large red onion, quartered lengthways and sliced crosswise
4 oz. arugula, trimmed and sliced
4 oz. Gouda, diced
3 medium celery stalks, sliced
1 large apple, cut into ½ inch dice
1 cup of walnuts, chopped
1 cup of diced fennel
¾ cup of dried cranberries
3 tbs. of Snowdon House Vinegar
Black pepper to taste
Wash the quinoa for about 10 seconds, using your fingers. Transfer it to a 3-quart pot and put 2½ cups of water and ½ tsp. of salt into the pot, bring the water to a boil. Simmer for about 15 minutes over medium low heat.
Drain the quinoa, put it back in the pot, cover it, let it rest for 5 minutes, then fluff the quinoa.
Heat 2 tbs. of olive oil while the quinoa cooks, add the onion and a pinch of salt, cook for 6-8 minutes.
Add Snowdon House Vinegar and toss with the onion for 1 minute. Remove from hear and let it cool to room temperature.
In a large bowl, mix all of the listed ingredients except for the olive oil, Snowdon House Vinegar, and pepper.
In a small bowl, whisk 3 tbs. of extra-virgin olive oil with Snowdon House Vinegar, ½ tsp. of sea salt, and a couple of grinds of pepper. Add this dressing to the salad mixed in the large bowl, and then season the salad with salt and pepper.
Arctic Kiwi Infused Vinegar Salad
In our continuing quest to bring you new and tasty foods, we bring you a delicious addition to our fruit vinegar range. Arctic Kiwi Vinegar is a delicious blend of the fuzzy kiwifruit that you know and grow, and Arctic Kiwis.  Arctic Kiwis, also known as Grape Kiwis, are grown on the Saanich Peninsula. The fruits, which are about the size of a large grape, aren't covered with fuzz, and have small seeds. They taste sweeter than fuzzy kiwis and don't require peeling. They are also higher in Vitamin C than most citrus fruits.
1/2 bag spinach
2 Buck Brand Navel oranges, cut into segments
2 peeled kiwifruit, quartered
1/2 cup pecan halves
1 tbsp. poppy seeds
Snowdon House Arctic Kiwi Infused Vinegar
Combine first 5 ingredients then drizzle with Arctic Kiwi Vinegar and toss.
Add Some Zing to Your Bubbly!
Snowdon House Fruit Vinegars will add a special touch to your holiday champagne cocktails.  Just add a splash to take your toasts to a new level.
Lemon Verbena Sorbet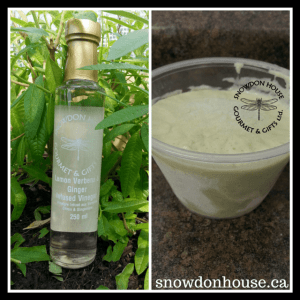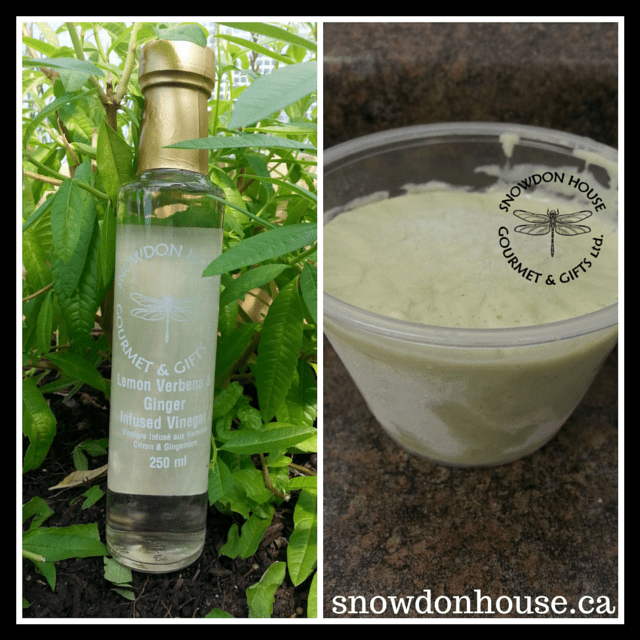 1 cup of lemon verbena leaves
1 cup of fine sugar
1 & ¼ cup of lemon Verbena Vinegar
2 cups of cold water
Grind the lemon verbena leaves and sugar together in a food processor until the mixture turns into a green paste (about 30 seconds). Scrape down the sides as necessary.
Add the Lemon Verbena Vinegar and process for 15 more seconds, and then add water.
Pour pureed mixture into an ice cream maker and freeze according to the maker's instructions. Serve immediately.