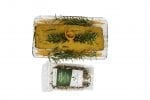 Garden Vegetable Empanada
The sweet potato dough can be made a couple of days ahead of time. I chose to make two large pies, but you could roll the dough into small rounds and stuff them individually. Fill them and then freeze them and bake them as you need them. To freeze, place them on a parchment-covered baking sheet and flash freeze then place in a tub or Ziploc bag. Alternately you can make the filling and stuff it into a puff pastry crust.
You can also make this with leftover garden vegetable soup, but you will have to cook away more of the water and add meat. If the soup is too watery it will make the pastry mushy.
Ingredients
Dough
1

lb

Sweet Potato

You need 1 1/2 cups of cooked sweet potatoes

1

cup

all-purpose flour

Substitute gluten-free flour

1/2

cup

whole wheat flour

Substitute coconut flour

1/2

cup

cornmeal

1/4

tsp

salt

2

tbsp

olive oil
Filling
1

pkg

Snowdon House Garden Vegetable Barley Soup Mix

6

cups

water

1/2

lb

ground round

Substitute Vegan Ground Meat
Instructions
Dough
Preheat oven to 350°. Prick the sweet potato and place on a baking mat or parchment paper. Takes approximately 1 hour to bake. Let cool, peel and mash the potato well.

Place both flours in a bowl with the cornmeal and the salt. In a mix-master beat the 1 ½ cups of sweet potato with the coconut oil till smooth. Gradually add the dry mixture until a smooth dough forms.

Place the dough in wrap and place in the fridge for an hour.
Filling
Mix the garden vegetable soup mix with water and cook for 45 minutes until moist but not wet.

In a separate pan cook your ground beef drain any fat away and add to soup mix.
Empanada
Divide your dough in half. This is a sticky dough and you will have to add flour as you roll it. ( I rolled mine on a piece of floured parchment paper, and then flipped it onto a silicone baking sheet and stuffed the dough on it.) It made the transferring process so much easier.

Flour a surface area and roll the dough to make a circle (approximate 8-10 inch).

Place half the filling mixture in the centre of the dough.

Wrap the dough around the filling, sealing the edges with water.

Bake for 35-40 minutes at 350° until the bottom of the dough is light brown and the top is firm to touch.
Products used in this recipe: