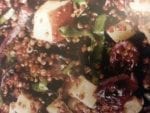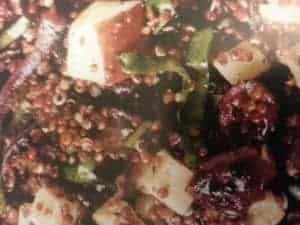 Snowdon House Quinoa Salad
Ingredients
1½

cups

quinoa

tbsp

extra-virgin olive oil

1

large red onion, quartered lengthways and sliced crosswise

4

oz

arugula, trimmed and sliced

4

oz

Gouda, diced

3

medium celery stalks, sliced

1

large apple, cut into ½ inch dice

1

cup

walnuts, chopped

1

cup

diced fennel

¾

cup

dried cranberries

3

tbsp

Snowdon House Vinegar

Black pepper to taste
Instructions
Wash the quinoa for about 10 seconds, using your fingers. Transfer it to a 3-quart pot and put 2½ cups of water and ½ tsp. of salt into the pot, bring the water to a boil. Simmer for about 15 minutes over medium low heat.

Drain the quinoa, put it back in the pot, cover it, let it rest for 5 minutes, then fluff the quinoa.

Heat 2 tbs. of olive oil while the quinoa cooks, add the onion and a pinch of salt, cook for 6-8 minutes.

Add Snowdon House Vinegar and toss with the onion for 1 minute. Remove from hear and let it cool to room temperature.

In a large bowl, mix all of the listed ingredients except for the olive oil, Snowdon House Vinegar, and pepper.

In a small bowl, whisk 3 tbs. of extra-virgin olive oil with Snowdon House Vinegar, ½ tsp. of sea salt, and a couple of grinds of pepper. Add this dressing to the salad mixed in the large bowl, and then season the salad with salt and pepper.