Try this fresh and delicious sandwich on homemade bread. Don't panic, this bread is quick and easy to make with the West Coast Bread Mix. Just add your favourite can of beer or cider to the package and bake. Slice you're fresh baked bread and craft this delicious roasted beet sandwich!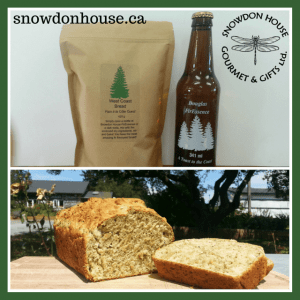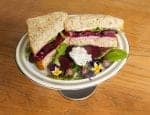 Roasted Beet Sandwiches (West Coast Bread Mix) with Onion & Garlic Goat Cheese
Ingredients
1

Package

Snowdon House West Coast Bread

(Bake according to directions)

4

Medium Beets

1

tbsp

olive oil

1/4

cup

olive oil

2

tbsp

Snowdon House Onion and Garlic Dip

4

oz

goat cheese softened

(Requires sour cream, crème fraiche or goat cheese)

1/2

cup

crème faiche or sour cream

2

cups

baby arugula

pinch

tarragon and salt and pepper to taste
Instructions
Premix onion & garlic dip and bake West Coast Bread (can do this the night before).

Preheat oven to 375 degrees.

Arrange the beets in a baking dish and drizzle with olive oil (turn to coat well). Cover the dish with foil and roast the beets until tender when pierced with a paring knife about 1 hour. Let cool.

Peel the beets and slice 1/4 inch thick.

Combine the beets, olive oil, 1/2 of the tarragon in a medium bowl, season with salt and pepper.

Position a rack in the oven 6 inches from the broiler on high and lightly toast the cut sides up under broiler.

Portion the beet mixture evenly over the bottom halves of the bread. Drop the cheese mixture by spoonful's over the beets.

Top the cheese with the arugula dividing evenly. Place the top halves of the bread over the arugula and press. Cut the sandwiches in half on the diagonal and serve.
Products in this recipe