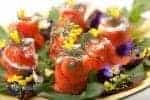 Smoked Salmon Rolls with Douglas Fir & Herb Goat Cheese
Ingredients
1/4

cup

cream cheese at room temperature

1/4

cup

goat cheese

1

tbsp

Snowdon House Douglas Fir and Herb blend

2

tsp

Snowdon House Lemon Verbena Infused Vinegar

1

tsp

lemon zest (you can substitute with 1/2 tsp. dried lemon peel )

2

tbsp

thinly sliced chives

1/8

tsp

kosher salt

1/4

cup

thinly sliced celery (very fine)

2 1/2

pounds

thinly sliced smoked salmon not hot smoked (also known as lox) found in most delis

1

tbsp

chopped fennel fronds
Instructions
In a small bowl mix the cream cheese, goat cheese, Douglas Fir herb Blend, lemon verbena vinegar, lemon zest and salt. This is best made the night before so it has lots of time to rehydrate and the flavour becomes more enhanced when it sits, leave it in the fridge overnight.

To assemble lay a long sheet of saran wrap on your counter. Slightly overlap the pieces of salmon on the plastic to create a rectangle measuring about 3 1/2 inches by 7 inches. The long side of the rectangle should be parallel to the edge of your work surface. cover with another piece of plastic wrap and press gently with your hands or a flat spatula to encourage the salmon to stick together.

Remove the top sheet of the plastic. Using a thin metal spatula or butter knife spread about 2 tablespoons of the cheese mixture on the salmon leaving a 1/2 border around the long sides. Place the celery and chives and sprinkle with a little fennel fronds and salt. Lightly press the roll together at the seams. Place on cutting board and cut the roll into six pieces. Repeat. Arrange the rolls on a platter with a selection of greens and edible flowers from the garden.
---
Products in this recipe