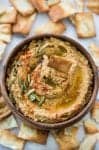 Spaghetti Squash Hummus
This smooth and creamy squash hummus recipe is a delicious and healthy way to celebrate the season. It pairs perfectly with pita chips, crackers, toast, veggies and even works great as a spread. You're going to want to serve this tasty, full flavoured dip on repeat all season long.
Ingredients
1

medium spaghetti squash

1 1/2

cups

cooked quinoa/millet blend

(See below for uncooked amounts.)

2

tsp

lemon juice

2

cloves

garlic

4

tbsp

extra virgin olive oil, divided

(Reserve 1 tbsp for serving)

2

tbsp

Snowdon House Basil Cilantro Vinegar

1/2

tsp

sea salt

(Plus more to taste, as desired.)

1

pkg

Snowdon House Yam and Curry Dip Mix

1/2

cup

raw pumpkin seeds

smoked paprika
Instructions
Roast spaghetti squash in 300F oven for about 1 hour.

Cook 1/2 cup quinoa and 1/2 cup millet.

Scoop out spaghetti squash and mix with the cooked millet and quinoa.

Combine all ingredients in a food processor or high-speed blender. Process until smooth, stopping occasionally to scrape down the sides of the bowl.

Scoop mixture into a serving bowl and drizzle with 1 tbsp extra virgin olive oil. Sprinkle with smoked paprika and garnish with pumpkin seeds.

Serve with raw veggies, chips or crackers. It's also wonderful as a topping for salads and wraps.
Products used in this recipe: