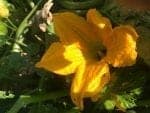 Stuffed Zucchini Blossoms
Ingredients
Stuffing:
I pkg Snowdon House Douglas Fir & Tomato Seasoning Blend

300

g

goat cheese
Instructions
Make the filling:
Mix the Snowdon House Douglas Fir & Tomato Seasoning Blend with goat cheese. Let sit for 6 hours.
Blanch the flowers:
Bring a large pot of water to a boil with 1 tablespoon salt. Shake each blossom and check inside for insects. Carefully snap off and discard the pistil inside the female flowers and leave the fruit attached. The male flowers just need their stems trimmed to about 1 inch. Set up a large bowl of cold water next to the stove. Plunge 4 blossoms at a time into the boiling water and boil for 10 seconds. Remove them with a slotted spoon or wire skimmer and plunge them into the cold water.
Stuff the flowers:
Line a baking sheet with parchment paper or lightly oil it. Keep the blossoms submerged in water where the petals are easier to separate. Cup your hand and scoop up one of the flowers, while you use your other hand to drape the petals over the top of your thumb and index finger. Lift the flower from the bowl of water and tilt your hand to drain it. Put a ball of filling in the centre, gently drape the petals back into a closed position, and lay it on the baking sheet. Brush the blossoms lightly with olive oil and season them very lightly with salt and pepper.
Finish the dish:
Preheat the oven to 350°F. Heat the blossoms in the oven until they begin to sizzle at the base and the cheese is warmed through, 5 to 7 minutes.
Recipe Notes
Once the blossoms are stuffed, they can be covered with plastic wrap and refrigerated for up to 8 hours.
Products used in this recipe: