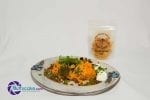 Twice Baked Sweet Potatoes with Yam & Curry Dip
Ingredients
2

Sweet Potatoes

1/2

cup

extra sharp cheddar cheese

2

tbsp

sour cream

1/2

package

Snowdon House Yam & Curry Dip Mix

1/4

cup

pumpkin seeds

salt and pepper to taste
Instructions
Line a cookie sheet with parchment paper.

Prick sweet potatoes all over with a for and bake for about 1 hour (turning after 30 min). Let potatoes cools until you can handle them, then scoop all of the potato into a bowl. Try not to break the skin as you will be refilling it.

Place potatoes, Snowdon House Yam & Curry Dip, salt and pepper, sour cream, pumpkin seeds and cheddar into a bowl. Mix well and restful potatoes, dividing mixture evenly.

Place on baking sheet lined with parchment paper and bake an additional 15 minutes. Top with fresh garden chives and serve.
---
Products in this recipe