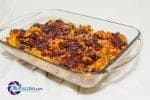 Cranberry & Ginger Bread Pudding
Ingredients
1

Snowdon House Cranberry & Ginger Cider Bread Mix

1

bottle

cider

1/2

cup

granulated sugar

5

large eggs

2

cups

milk

1

tsp

vanilla extract
Sugar & Nut Topping
1/4

cup

brown sugar

1/4

cup

butter

1

cup

chopped pecans

1

bottle

Snowdon House Crabapple, Cranberry & Fir Brie Topper

1/4

cup

brandy
Instructions
Prepare Snowdon house Cranberry and Ginger Cider Bread mix according to instructions. Remove from pan and let cool.

Grease a 9 x 13 cake pan. Cut cranberry bread into pieces about two inches in diameter. They don't have to be even. Fill the pan.

Beat eggs, milk, sugar and vanilla. Pour over top of the bread.

Melt butter for nut topping add the brown sugar and pecans. Stir and spread over the bread pudding. Place 1/2 bottle of the Snowdon House Crabapple, Cranberry, Fir Brie Topper in a saucepan and add the brandy. Heat until it melts and stir. Place on top of the pudding and bake for 25 minutes until done. The pudding is done when the edges start getting a bit brown and pull away from the edge of the pan.
---
Products in this recipe