Enjoy a delicious, fruit-filled dessert with very little mess. The fresh fruit can be changed as plants ripen and are harvested, making this a fabulous dessert that changes with the seasons!
Cranberry & Ginger Dessert Pizza with Lemon Verbena Infused Vinegar and Fresh Fruit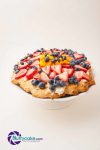 1 Package Snowdon House Cranberry & Ginger Cider Bread Mix
1/2 Bottle Snowdon House Lemon Verbena Infused Vinegar
1 Can Your Favourite Cider or Ginger Ale
1/2 Cup Cream Cheese
1 tbsp Icing Sugar
1 tsp Vanilla Extract
1 1/2 Cups Fresh Fruit (I would suggest a mango, raspberries, blueberries or strawberries.)
Mix the Cranberry & Ginger Cider Bread mix with a can of cider in a bowl. Make sure it is well mixed.
Prepare your cookie sheet for baking by placing a piece of parchment paper on it, draw a 10 inch circle on the paper as a guide (I use a dinner plate as a guide). Place the mixed dough on the parchment paper and pull to the edges of the circle, level the dough as evenly as possible.
Bake for 15 – 20 minutes 350 degree oven check with knife to ensure it is done. Let cool on the counter.
While your pizza is cooking place your lemon Verbena Vinegar on the stove in a small pot and reduce until about half the vinegar is left let it cool.
Once the dessert pizza is cool mix your icing sugar with your vanilla and icing sugar, creaming well and spread on the top of the pizza . Slice the fresh fruit for the topping place fruit on top of pizza and drizzle with the lemon verbena infused vinegar reduction. I find it easiest to cut this dessert with a pizza cutter.
---
Products in this recipe