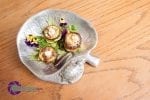 Grilled Tomato & Zucchini Stacks with Popeye's Passion Dip 
Ingredients
1

Package

Snowdon House Popeye's Passion Dip Mix

prepare according to directions

12

1/4 inch slices

zucchini cut on the diagonal about 1 medium zucchini

12

1/2 inch slices

tomato, visually a mix of colored tomatoes looks really nice with yellow and red

1

tbsp

olive oil

1

tsp

fresh mint

pint

salt and pepper to taste
Instructions
Premix 1/2 cup ricotta cheese and 2 tbsp. of Popeye's Passion & 1 tbsp. chopped chives. Set aside in fridge (best if made the day before, it needs at least 2 hours to rehydrate. Add 1 tsp fresh mint and freshly ground pepper, salt to taste)

Preheat a gas grill to medium-high.

Brush the zucchini all over with the 1 1/2 tsp. of olive oil.

Grill until lightly brown and barely tender (1 to 2 minutes per side). Do not overcook. Set aside.

Season the tomato slices and grilled zucchini with sea salt and black pepper. To assemble put a tomato slice on each of the 4 plates. Top with Zucchini repeat twice more and then top with dollop of ricotta mixture and serve.
---
Products in this recipe