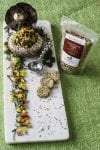 Portobello Mushroom Stuffed with Ginger Coconut Dahl Soup
Ingredients
1

packet

Snowdon House Ginger Coconut Dahl Soup

1/4

CUP

nutritional yeast

4

portobello mushrooms

1

tbsp

coconut oil
Instructions
Preheat oven to 350 F

Prepare Snowdon House Ginger Coconut Dahl Soup Mix according to the instructions; it takes approximately 20 minutes.

Remove the stems from the mushrooms and chop finely, then sautee in a fry pan with coconut oil. Remove from heat. In a bowl, mix the nutritional yeast, ginger coconut dahl and chopped mushroom stems.

Line a baking sheet with parchment paper or a silicone baking mat.

Stuff mushrooms with the mixture, place on the baking sheet and bake for 20 to 25 minutes, or until the mushrooms are cooked through. Serve with a medley of fresh spinach, peppers and cucumber.
Products used in this recipe: