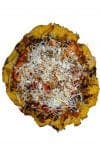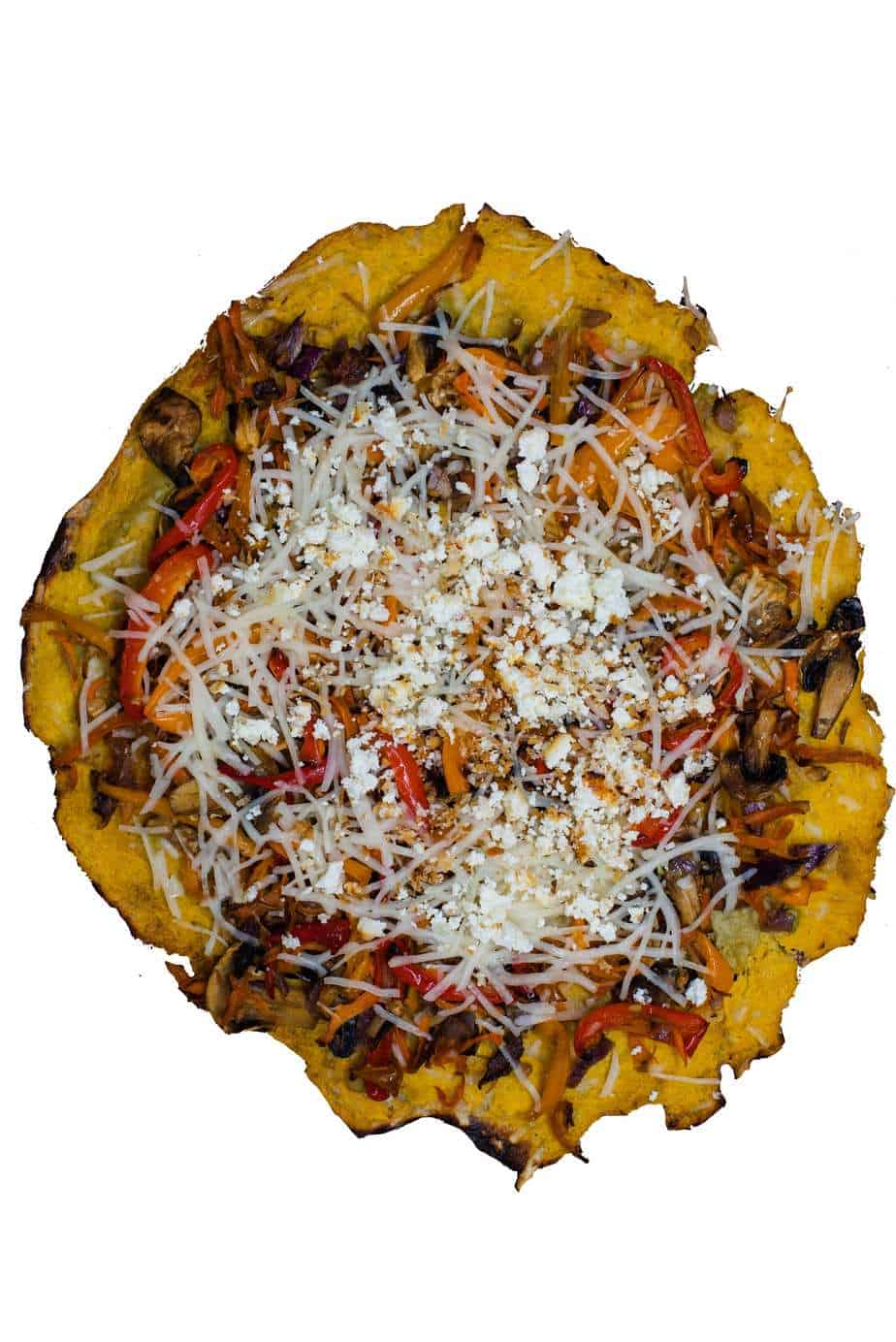 Spaghetti Squash Pizza Crust with Roasted Vegetables
What a delightful paring of vegetables that reduces carbs and a tantalises the tastebuds. You can make this vegan by substituting the eggs for either a flax seed egg or a chia egg and the mozza for a vegan cheese. Another alternative is to make it into small individual pizza and everyone can top there own pizza. While the spaghetti squash is baking you can prepare the vegetables. Both of these preparations acan we done a day ahead and then baked on the day you wish to serve it.
Ingredients
The crust
1

Medium spaghetti squash

2

large eggs

½

cup

shredded mozzarella cheese or vegan mozza

½

tsp

garlic salt

Cooking spray
The topping
½

red pepper, sliced

½

yellow pepper, sliced

½

cup

onions, sliced thin on mandolin

2

cloves

garlic

½

cup

grated carrot

7

mushrooms

½

pkg

enoki mushroom chopped

(Remove the bottom inch of the mushroom and don't use.)

½

cup

Snowdon House Infused Vinegar*

1

tbsp

olive oil
Instructions
Spaghetti Squash
Place the squash on a parchment paper-lined baking sheet. Puncture the squash so the hot air can be released when cooking. This takes about an hour and can be done a day ahead.

Once the squash is cooked, scoop out the flesh and place in the centre of a tea towel. You must wring out the excess moisture. I used 3 towels to insure the squash was as dry as it could be. This will ensure a better texture for the crust.
Crust
Preheat oven to 400°

Beat the eggs, cheese and garlic together. Stir in the squash until combined. Line a baking sheet with either a silicone sheet or parchment paper. Press the squash mixture into a 10-inch circle as even as possible and bake until golden (about 20 minutes).
Roasted Vegetables
Place sliced and chopped vegetables on a baking tray lined with a piece of parchment or a silicone sheet and top with vinegar, salt and pepper and 1 tablespoon oil. Toss the vegetables and bake till done (about 10-15 minutes).
Pizza
Reset your oven temperature to 400°.

Once crust and vegetables are cooked you are ready to assemble your pizza. Top crust with vegetables and add with your choice of cheese. Bake an additional 10 minutes until done
Recipe Notes
*May I suggest any one of the following infused vinegar flavours: Peppered Nasturtium for a fiery finish, Douglas Fir for a subtle citrus taste, or the Lemon Verbena for an intense lemony tang. All will impart a different flavour into the vegetables.
Products used in this recipe: