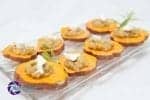 Sweet Potatoes with Ginger Coconut Dahl
Ingredients
Snowdon House Ginger Coconut Dahl

3

small sweet potatoes sliced

olive oil

sour cream to garnish
Instructions
Cook Snowdon House Ginger Coconut Dahl according to instructions approx, 30 minutes. this is a very thick soup also known as an Indian Stew.

Slice sweet potatoes into rounds and place on a piece of parchment paper. Brush the sweet potatoes on the top side with olive oil and bake until done about 15 minutes. Check to make sure they are cooked all the way through.

Remove from oven and place on a platter. Top with ginger coconut dahl and garnish with a dollop of sour cream and serve. Any left over soup can either be reheated and eaten the next day or frozen.
---
Products in this recipe